Focused and Radial shockwaves differ in their physical characteristics and in the technique for generating them, and in the parameter used in the therapeutic penetration depths into the tissue.
Overview of the PHYSICS fundamental differences between
Focused & Radial shockwaves: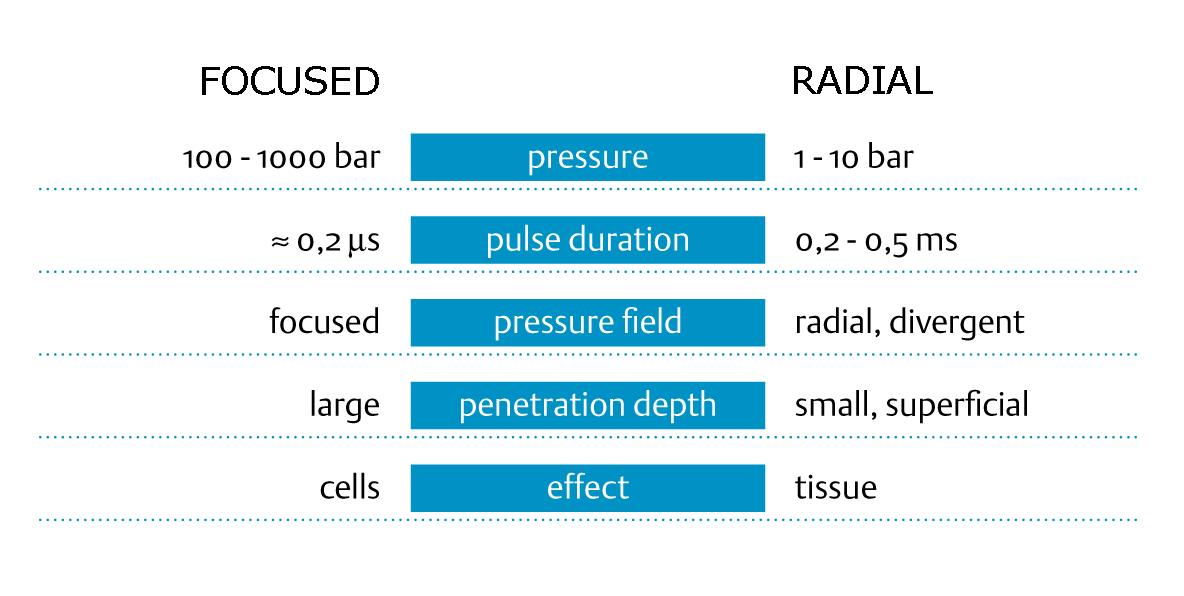 Current clinical studies, show, that the stimulation effects and therapeutic mechanism are fairly similar, regardless of the physical differences and the resulting different application areas (on the surface and in depth). Radial shockwaves are well suited for indications near the surface and inn the case of myofascial pain syndromes, radial is indispensable for smoothing the muscles before or after focused shock wave treatment. For the therapy of deep local pain points, chronic insertion tendinitis and deeper trigger points, the application of focused shockwaves seems to be favorable. Planar or defocused shockwaves are primarily used for the treatment dermatological or aesthetic indications.
To underline the differences between the two, various other terms are also comment used, such as "Extracorporeal Pulse Activation Therapy" (EPAT) or "Acoustic Wave Therapy" (AWT) or similar used for Radial.