Experiences in wound healing treatment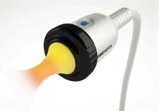 First clinical experience with shock waves indicates a promising therapy in the field of wound healing. Originally used only for the disintegration of kidney stones, today shock wave treatments of cardiac and orthopedic indications have become a recognized treatment option. Application of low energy shock wave stimulates blood flow and the formation of new capillary vessels (angionesis). Internationally, several research groups are exploring the use of shock wave therapy for wound healing.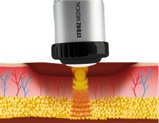 In 2012 Hayashi et al. showed that shock wave therapy stimulated wound healing in the skin of diabetic mice. The study disclosed that eNOS (endothelial Nitric Oxide Synthase) and VEGF (Vascular En- dothelial Growth Factor) are responsible for the beneficial effect of shock waves in wound healing. Both factors are responsible for the neovascularization and wound closure.
About shock wave therapy: Reliable electromagnetic shock wave generation
The method of electromagnetic shock wave generation is based on the physical principle of electromagnetic induction, as used for example in loudspeakers. The arrangement of coil and membrane is optimized to generate powerful and short acoustic pulses, an ideal form of shock waves for indications close to skin surface, like non-healing wounds.
Shock waves (C-ACTOR® handpiece) are preferably used in the treatment of wound healing disorders. The energy level and the shock wave field warrant an exact treatment of the wound.
Shock waves initiate healing processes 
Stimulation of microcirculation (blood, lymph) and metabolism (nitrous oxide, vasodilation, reduction of oxidative stress)
Mechanotransduction – cell matrix stimulation
Increase of cell wall permeability (increased molecular mobility)
Release of NO (eNOS)
Antibacterial and anti-inflammatory effect
Stimulation of growth factors (e.g. VEGF)
Stimulation of stem cells i.e. cell proliferation, transport and differentiation (skin rejuvenation, tissue regeneration)
Indications 
Chronic non-healing wounds
Skin burns
Non-invasive therapy
Negligible side effects
No anesthesia
Ambulant procedure
Long lasting effects  
DUOLITH VET treatment process recommendation for wounds
Use F-SW hand piece with Stand-Off I or C-ACTOR® hand piece
Energy level: 0.15 to 0.25mJ/mm2
Shocks per area: ~ 100 pulses/cm2
Frequency (Hz): 6
Treatment area: Apply treatment directly to the wound using a sterile film and ultrasound gel for transmission. Treat the entire wound, including the rim and surrounding tissue.
Treatment interval: Once or twice a week for 3 to 4 weeks or longer until significant improvements are apparent.
Pre/after treatment documentation:  To help visualize improvement, take pictures and measure the size of the wound before treatment and at the beginning of every treatment session.
Clean wound after treatment.
Thoroughly disinfect and clean F-SW hand piece and Stand-Off after each treatment
Maintain conservative wound care during shock wave therapy. 
 Note: Parameters can vary depending on the extend and type of the wound. 
Case sample of a treatment to a chronic Pastern Wound
09/25/2012                                10/02/2012                             10/12/2012
case pictures courtesy of Bill Bazzell – Signature Stallions, Reddick FL
For more information, please do not hesitate to contact us.