Effective physiological muscle vibration therapy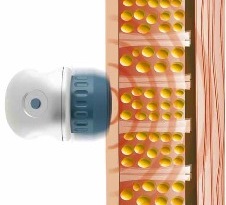 … enables targeted application of pneumatically generated vibration pulses to the tissue. Microcirculation is improved by compression and decompression, and metabolic waste products and toxins are removed via the blood and lymph system. Elongation of fascial and muscle fibres restores normal muscle tone as muscle shortening and hardening is eliminated.
Benefits and Effects
Muscle and connective tissue relaxation
Elimination of adhesions
Improved microcirculation
Stimulation & acceleration of metabolic activity
Improved lymphatic activity leading to targeted and faster removal of waste products and toxins
Improved neuromuscular performance
Well-being through increased hormone release (serotonin)
Applications/ Indications
Myofascial pain syndrome
Elimination of muscle trigger points
Reduction of muscular strains
Craniomandibular dysfunction
Lymphatic drainage
Wellness and Massage
Technical specifications
1 – 35 Hz high-frequency vibration therapy
Energy: 1.4 – 5 bar
Amplitude: 1 – 4 mm
Exchangeable vibration pulse transmitters
Vibration pulse transmitter head sizes:
V10 (Ø10 mm), V25 (Ø 25 mm), and V40 (Ø 40 mm)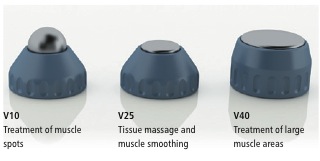 At 35 Hz treatments an elongation reflex will occur 35 times per second, the muscle will contract more or less continuously. Also refer to as Tonic Vibration Reflex (TVR).
Muscle vibrations further improve lymphatic obstructions. Smallest lymphatic channels (lymphatics)  open up to absorb tissue debris, which binds the lymph in the ground substance. Lymphatic drainage is promoted.
»Vibration therapy is an ideal addition to shock wave therapy.

V-ACTOR® is optionally available only for
MASTERPULS® MP100 elite, MP200, and DUOLITH® series
For more information about the V-ACTOR, please do not hesitate to contact us.