The High-End Solution for Veterinary Demands – ESWT Unlimited
The STORZ DUOLITH VET is the only equine veterinary shock wave therapy machine that combines the option for focused and radial shockwaves in one unit!
The DUOLITH can also function as just a focused shock wave unit, effectively treating injuries up to 125 mm in penetration depth, its quality includes a long-lasting Focused Shock Wave (F-SW) applicator hand piece with constant and reliable high energy output, dynamics, and ergonomically optimized treatment focal zone.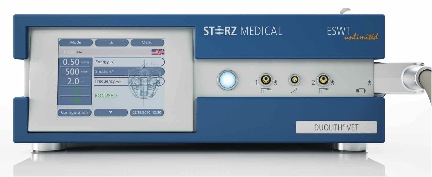 Your benefits utilizing the DUOLITH:

treat near-suface and deep sited areas of the body
ergonomically optimized focal zone
constant high-energy dynamics
low noise Focused Shock Wave
innovative touch screen display
STORZ patented cylindrical electromagnetic shockwave source
large coupling area without energy loss, thus less painful at skin surface
sturdy aluminum transportation case with handle & wheels for convenient mobile use
easy to use, quick & simple set-up
over 1 Million shocks per F-SW hand piece revision
economical: minimal operating expense
high ROI
Focused Shockwave (F-SW)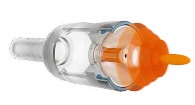 Large dynamic energy range: 0.01 – 0.55 mJ/mm² (max. 62 MPa)
Therapeutic penetration depth: 0 – 125 mm
High shock frequency: 1 – 8 Hz / pps (pulses per second)
Applicator hand piece weight: 1.43lb (650g)
Optional: Planar/defocused/high-energy shock wave hand piece:
Energy density: 0.01 – 1.24 mJ/mm2
Optional:  Radial Shockwave (R-SW)  see MASTERPULS MP200 page
Optional:  Vibration Therapy V-ACTOR®: 1 – 35 Hz  see V-ACTOR Technology page
Treat deep and chronic conditions utilizing Focused High-Energy, and superficial conditions utilizing Standard Ballistic/Radial, and connecting tissue and sore tender muscles utilizing D-ACTOR and V-ACTOR technologies.
No expensive probes/trodes to purchase every 50,000 impulses – the DUOLITH applicator F-SW hand piece is guaranteed for 1 million impulses (20 times longer). This secures high ROI.
No need for multiple expensive probes to do superficial, medium and deep level treatments. The DUOLITH F-SW hand piece meets all needed penetration depths with the use of only two stand-offs that screw easily on the hand piece itself.
Additional DUOLITH features:
Powerful energy range, individually selectable
Reliable therapy for deep penetration areas
Large focal zone, increased targeting precision
Simple changeover from focused to radial application to treat a wide spectrum of indications
A completely portable solution for HIGH-ENERGY combination ESWT
Virtually maintenance free applicator hand pieces
Economical with minimal operating expense
Low-noise focused shockwave generation
Quick Treatment Sessions
ON/OFF Trigger button on applicator hand pieces
Touch screen control panel
Treatment data storage directly in the system
Total energy measurement
USB/LAN ports
Optional: Intracorporeal Shock Wave Lithotripsy (ISWL) capabilities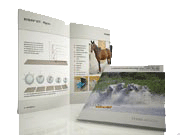 Brochure:
DUOLITH VET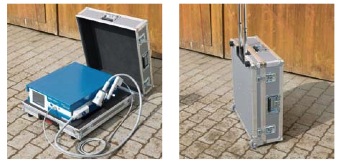 For more information about the DUOLITH VET, please do not hesitate to contact us.