Extracorporeal Shock Wave Therapy (ESWT) for Horse
Benefits
ESWT equine shock wave is used for the treatment of musculoskeletal soft tissue pain and disorders in horses. Short and sedation-free equine shock wave therapy sessions provide successful relief of acute and chronic pain.  Equine shockwave also restores mobility and promotes faster healing by stimulating bone growth, tissue regeneration and the release of endorphins.
The many benefits of equine shockwave therapy include alleviating pain, enhancing healing and speeding up healing times.  Additional benefits of equine shock wave therapy are that it is a non-invasive treatment, has no side effects, is not uncomfortable for the horse, and equine shockwave therapy requires no sedation.  It is also a quick and painless treatment that is cost effective. Please click here to read more about The Benefits of Equine Shockwave. There are also a number of cosmetic applications for equine shock wave therapy that can be quite beneficial in certain equestrian circles.
Treatable Conditions
Pathologies that have successfully been treated with equine shock wave are detailed on our Uses and Applications of Equine Shockwave Therapy page.
 I use (equine shock wave) to treat injuries associated with front and hind limb suspensory ligaments . . . splint bone fractures, tendon injuries and other musculoskeletal issues including those of the back and neck.
Jack Shuler, DVM – Chapel Hill Equine Associates – Chapel Hill, NC
"We have been using extracorporeal equine shock wave therapy to treat suspensory desmitis, avulsion fractures, bucked shins, stress fractures, maladaptive bone disease, inflammation of the dorsal spinous process ("kissing spines") and osteoarthritis. 
  Tufts – University Veterinary Medical Teaching Hospital, North Grafton, MA
More Equine Shock Wave Testimonials         Equine Shock Wave Case Studies
 ESWT Extracorporeal Shock Wave Equipment
FOCUS-IT offers Equine Shockwave Equipment that features radial shock waves or a combination of radial and focused shock waves. To learn more about these two kinds of shockwaves and the uses for each, please visit our About Shockwaves pages.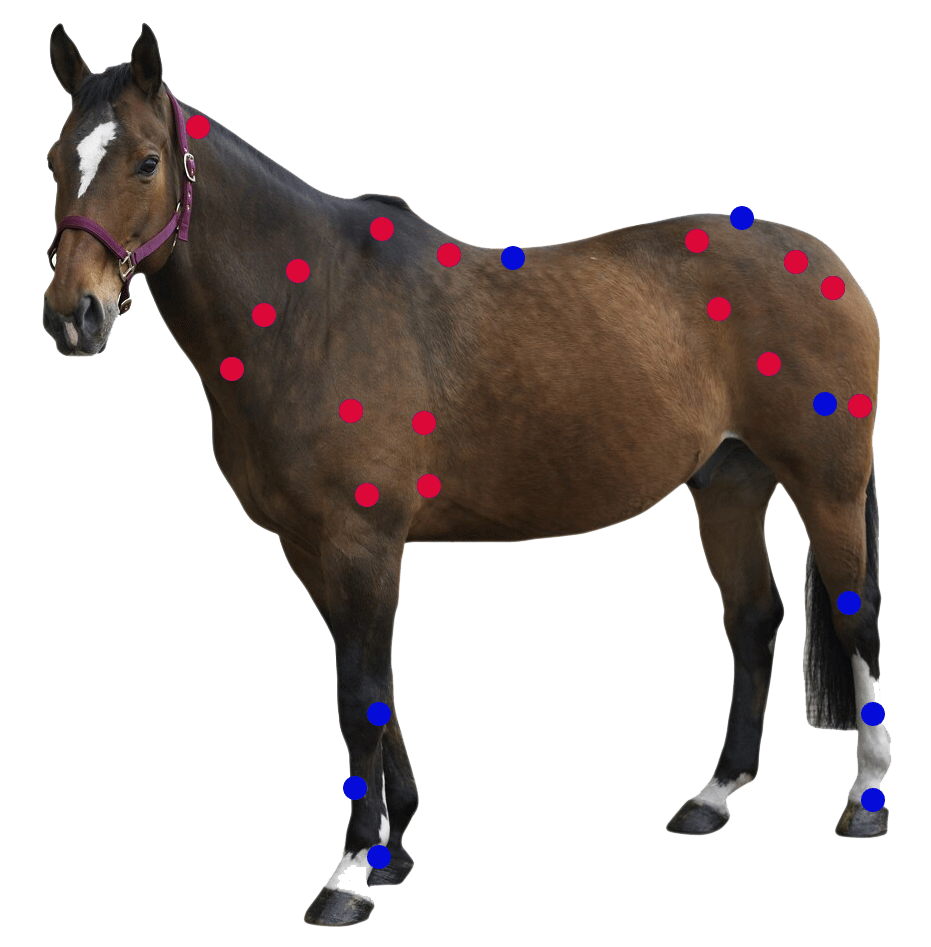 Equine Shockwave Diagram
Here we have indicated areas on the horse where equine shock wave therapy is commonly used.  The blue points indicate areas for utilizing Standard ESWT equine shock wave technology and the red points indicate muscle treatment areas utilizing D-ACTOR shock wave technology.
STORZ MEDICAL patented D-ACTOR® Equine Shockwave technology is being used successfully for: Myofascial Pain by treating Trigger Points (Trigger point Shockwave Therapy / TPST / TST) and Acupressure Points (Acupressure Shockwave Therapy / APST / AST). Equine shock wave is also showing great results with new applications in Dermatology such as Non-Healing Wounds, painful scar tissue and 2nd degree burns.  The STORZ Equine Shockwave Technology is not only cutting-edge; the units are extremely portable and user-friendly

Summary
Equine shockwave therapy is an ideal alternative to surgery and drugs when treating horse injuries and both chronic and acute horse conditions.  It is an excellent way to provide both analgesic and therapeutic effects with no pain and no side effects for the horse.  Horse owners appreciate that equine shockwave therapy treatments are low cost, effective, require only a few treatments, can be done on an outpatient basis and that with portable machines, equine shock wave therapy can be administered onsite without require the horse to be transported.  For more information about equine shockwave therapy, contact your veterinarian or contact FOCUS-IT, to call simply dial 770-612-8245.