Extracorporeal Shock Wave Therapy Equipment For Veterinary Use
FOCUS-IT offers ESWT SHOCK WAVE EQUIPMENT, accessories and supplies to equine veterinarians and veterinary practices throughout the U.S., Canada and Australia. While extracorporeal shock wave therapy equipment can be used for companion animals, FOCUS-IT concentrates mainly on shock wave therapy equipment for horses.
Equine Shockwave Therapy Equipment
FOCUS-IT has been involved in the sales, support and service of ESWT equipment in the U.S. for more than 12 years.  We offer a range of extracorporeal shock wave therapy equipment, from the popular and affordable MASTERPULS 50 (MP50)  to the STORZ DUOLITH ULTRA.

Many shockwave companies offer extra corporeal shock wave therapy equipment that uses either radial or focused shockwaves, but FOCUS-IT is the only company that offers both technologies, with two models of ESWT equipment that offer both.
FOCUS-IT ESWT Equipment Offerings for Equine Shockwave Therapy Equipment Include:
DUOLITH® ULTRA ESWT Equipment
First class Modular ESWT System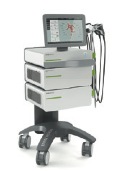 The pioneering modularity of the DUOLITH ULTRA extracorporeal shockwave therapy equipment ideally combines treatments, diagnostic information and navigation in one ESWT unit. We call this: Connected Technologies.  This ESWT shock wave unit is equine shockwave therapy equipment that combines both radial and focused shock wave options as well as integrated ultrasound imaging.
DUOLITH® T-TOP (TABLE TOP) VET – ESWT Equipment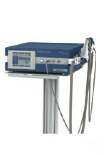 The High-End Solution for Veterinary Demands
The STORZ DUOLITH VET is the only equine veterinary shockwave therapy machine that combines the option for focused and radial shockwaves in one unit.  This ESWT equipment allows equine veterinarians to take advantage of the full range of possible applications for shockwave therapy.
MASTERPULS® MP50 ELITE ESWT Equipment
The Most Economical Radial Shock Wave Therapy Equipment on the Market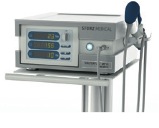 The MP50 is one of the most popular models of Storz extracorporeal shock wave therapy equipment due to its cost effectiveness, therapeutic effectiveness, portability and quick return on investment.  The MP50 ELITE shock wave machine is equine shockwave therapy equipment that uses radial technology and offers pulse intensity up to 4 bars.
MASTERPULS® MP100 ELITE ESWT Equipment
The Classic Radial Shock Wave Therapy Method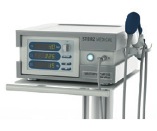 STORZ MASTERPULS® MP100 ELITE offers long lasting Radial Shock Wave (R-SW) technology with exceptional efficiency through constant reliable energy power.  This ESWT equipment model features a Silent Power built-in air compressor.  Thanks to its convenient mobility, the MP100 ELITE equine shockwave machine can be an indispensable partner at professional equestrian sports events, show tournaments, training sessions and rehabilitation programs, providing extracorporeal shock wave therapy equipment on-the-go.
MASTERPULS® MP200 ELITE ESWT Equipment
The Most Powerful Radial Shock Wave Therapy Equipment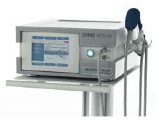 The STORZ MP200 is the top-of-the-line radial shockwave machine for veterinary applications, with power capabilities up to 5 bar and 21Hz.  This ESWT equipment model requires an external compressor and is recommended for in-office use, as it is less mobile than the other MasterPuls equine shockwave therapy units.  Now available with the new V-ACTOR hand piece for vibration therapy.
In addition to sales and service of new equine shockwave therapy equipment, please click here for pre-owned ESWT equipment units,
For more information about FOCUS-IT ESWT equine shock wave therapy equipment, services and supplies, please do not hesitate to contact us or call us today. 770-612-8245