The Classic Radial Shock Wave Therapy Method
The STORZ MP100 ELITE is our newest veterinary shockwave equipment model, featuring a low-noise compressor built right into the control unit.  Still lightweight and easily portable, the MP100 ELITE provides radial shock wave intensity up to 5 bar with 12Hz frequency, enabling faster treatment.
STORZ MASTERPULS® MP100 ELITE quality offers very long lasting Radial Shock Wave (R-SW) technology with exceptional efficiency through constant reliable energy power.  Through its excellent mobility, the MP100 ELITE is your indispensable partner at professional equestrian sports events, show tournaments, training sessions and rehabilitation programs.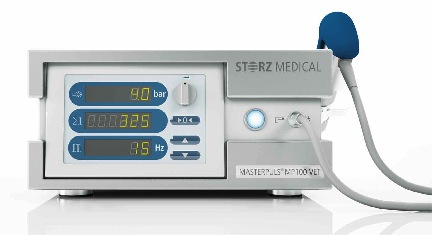 Your benefits utilizing the MASTERPULS MP100 ELITE:
Constant energy adjustment and output
Precision extended pressure/frequency range:
12 Hz/5.0 bar, 16 Hz/4.5 bar, 21 Hz/4.0 bar
Silent built-in power air compressor
Lightweight and easily transportable; ideal for mobile use
Custom shoulder bag for convenient mobile use
Easy to use, quick and simple set-up
Quick treatment sessions
Over 1 Million shocks per R-SW hand piece revision
Economical cost-effective minimal operating expense
High ROI
Optional: V-ACTOR® 35 Hz Vibration-Therapy
Optional: Battery-powered operation
The MP100 is equipped with a lightweight, hand-held applicator hand piece that can be fitted with different shock transmitter tips, depending on the area and size of the tissue to be treated.
Radial Shockwave (R-SW)
Therapeutic penetration depth depending on transmitter tip: 0 – 60 mm
High shock frequency: 1 – 21 Hz / pps (pulses per second)
Pulse peak pressure: max. 14.3 MPa
Applicator hand piece weight: 0.98lb (455g)
Trigger On/Off button on applicator hand piece
Shock wave generation: radial / ballistic
Over 1 Million shocks per hand piece with overhaul easily performed by customer
Proven STORZ MEDICAL ballistic technology with thousands of units installed worldwide.
For more information about the MASTERPULS MP100 ELITE, please do not hesitate to contact us.