The Most Powerful Radial Shockwave Therapy Solution
The STORZ MP200 is the top-of-the-line radial shockwave machine for veterinary applications.  Power capabilities up to 5 bar and 21Hz.  This model requires an external compressor and is recommended for in-office use, as it is less mobile than the other MP units.  Now available with the new V-ACTOR hand piece for vibration therapy.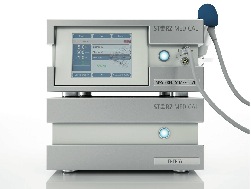 New developments and research in shock wave technology and its applications have discovered that better treatment results occur when the following three criteria are put together: exerting higher shock frequencies, maximizing shock wave introduction into the tissue, and optimizing application pressure.  The STORZ MP200 has the highest radial shock wave frequency of any unit on the market.  The MP200 promotes Biomechanical Stimulation (BMS) performed with D-ACTOR® technology, which is based on the mechanical application of vibrating pulses to tensed, shortened or overstretched muscles and tendons by means of the physiological shock frequencies (18–21 Hz) and low vibration amplitudes of the D-ACTOR® shockwave transmitter tips.  As a result, proprioception is controlled, the tissue is purified and the interaction between the central and peripheral nervous systems is improved.
The MP200 system consists of: Control Unit, STORZ ENERGY II Air Compressor, and Applicator Hand Piece with Standard Ø15mm and D-ACTOR I Ø20mm shockwave transmitter tips and Transportation Cases.
With a quick and simple set-up, the unit is operational in minutes and extremely user-friendly.
What makes the MP200 unique?
Affordable
Compact
Lightweight
High-Frequency shockwave generation
Economical: minimal operating expense
Quick Treatment Sessions
Control via LCD screen
two handpiece connectors
Technical Data:
Pulse Frequency: 1-21 Hz / pps (pulses per second) via touch screen
Pulse Intensity: 1-5 bar continuously adjustable via touch screen
Pulse Intensity: 0 – 72.5 PSI
Pulse Duration: approx. 200 – 2000 µs
Pulse Peak Pressure: max. 18.5 MPa
Control unit/compressor dimensions (HxWxD): 6.5 x 13.39 x 13.39 inches
Weight: 45.4 lbs (control unit with compressor)
For more information about the MASTERPULS MP200 ELITE, please do not hesitate to contact us.