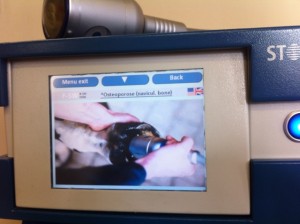 The DUOLITH VET has a NEW Software Upgrade!
New Veterinary Indications with Protocols and Pictures

Pre-loaded to make treatment settings easily accessible

Simply click through the menu to choose a specific indication. The display then shows a picture of the treatment area, the optimized treatment settings and additional recommendations.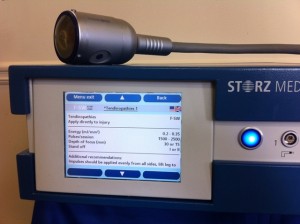 Detailed protocols including:
Appropriate hand piece to use
Energy level
Number of shocks
Frequency/Hz
Recommended stand-off or tip.
After loading the settings, you can start the treatment immediately.
The following Veterinary Indications are currently pre-loaded:
Insertional desmophatis I (F-SW)
Insertional desmophatis II (R-SW)
Tendinopathies I (F-SW)
Tendinopathies II (R-SW)
Sesamoiditis (F-SW)
Osteoarthritis (bone spavin) (F-SW)
Osteoporose (navic.bone) (F-SW)
Pseudarthrosis/fissures (F-SW)
Occult back pain I (F-SW)
Occult back pain II (F-SW)
Occult back pain III (R-SW)
We are including the installation of this software upgrade for free in our Annual Preventive Maintenance (PM).  We recommend a PM be performed every year.
To schedule your Annual Preventive Maintenance including the FREE software upgrade with pre-loaded Veterinary Indications please simply complete our Service Request Form and fax it back to us.
Take advantage of this wonderful upgrade! Call us for any questions 770-612-8245